Vietnam has an area of 329,241km², about 90% that of Japan. It is a narrow, north-south country about 1,650km long. At its northernmost end the latitude is 8°35', and at its southernmost end 23°24'. This wide range of latitude produces remarkable differences between the climates of the north and south, and forest vegetation also changes markedly by area.
A mountain range area stretches from the northern to the central part of the country. It belongs to the Subtropical Zone, in which evergreen, broad-leaved trees predominate. The lowlands, extending from the northern to central area, belong to and are distributed over the Torrid Zone. In them, deciduous trees shed their leaves during the dry season. The region from central to southern Vietnam also belongs to the Torrid Zone and predominantly consists of forests of tropical deciduous trees. In the southern area, a tropical evergreen rain forest with varied vegetation spreads throughout the Mekong River Basin. Mangroves also are widespread in coastal areas, such as the Mekong delta. The forests of Vietnam have distinctive vegetation by area, the value of which has yet to be ascertained but may be very high.
Unfortunately, these precious forests are being lost. It is estimated that 100,000 ha of forestland is destroyed yearly in Vietnam. Forest areas that covered 40% or more of the country in the 1940s have decreased to about 30%. Among the causes of forest destruction are ethnic minorities' slash-and-burn farming, the use of trees for firewood and charcoal, and commercial lumbering. In southern Vietnam, extensive spraying of defoliants during the Vietnam War (1945-1975) has been a major cause of forest devastation. Scarcely any trees now grow on the north slopes of mountains in the south. Defoliation effects remain severe. The coast's precious mangroves also suffered destruction due to defoliant sprays and being burnt down during the war.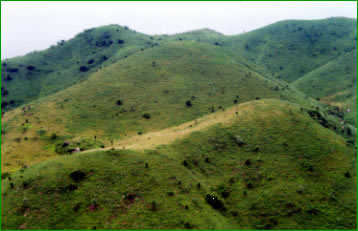 Deforested Mountains
To end this destruction of forests, the Vietnamese government initiated a policy for the protection and preservation of existing forests and for the restoration of despoiled areas. First, to stop commercial tree felling, exportation of logs and lumber of natural wood was prohibited. In 1997, the government made forest reproduction a national project, in which 3.3 million hectares of forest are to be restored during the period 1998-2010 in order to reforest 43% of the country; more than the area of Denmark.
| | |
| --- | --- |
| Area of Vietnam | 329,241 km² |
| Present forested areas (33% of the country) | 108,650 km² |
| Forest restoration target areas (43% of the country) | 141,574 km² |
So far, the positive reforestation project focused on the Acacia.
Acacia

5 Months after Planting

7 Years after Planting
To plant trees on 500 ha of land requires an enormous number of saplings. TGG is now engaged in a cooperative reforestation project with the Forest Science Institute of Vietnam (FSIV), the main organization responsible for forest reproduction in that country. Cuttings mainly are the means used to mass-produce saplings for reforestation. A large number of viable saplings are being obtained by the use of new technology developed by TGG.
Acacia Sapling Production with RFP

Acacia Saplings under
Mass Production for Reforestation
On February 23, 2004, TGG formally contracted for this cooperative reforestation project with FSIV.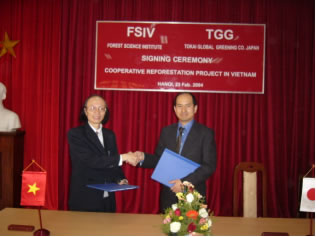 Signing Ceremony of the Contract for the Cooperative Reforestation Project
between FSIV and TGG (at FSIV in Hanoi, February 23, 2004)
In this project, five species of important trees native to Vietnam (Aquilaria, Cinnamomum, Diospyros, Erythrophleum, and Parashrea) are being planted at the Tran Yen plantation site in Yen Bai Province northwest of Hanoi. Those trees will not be felled for at least 50 years in order to maintain green forests. Saplings of the five tree species are being prepared from cuttings by means of technology developed by TGG.