A novel plant activator developed by TGG is being used for reforestation in a Japanese ODA project in Senegal, West Africa.
Senegal is located on the coast of West Africa. The northern half of the country abuts the area called the SAHERU zone. This zone, which extends along the southern edge of the Sahara Desert, is an area of serious desertification.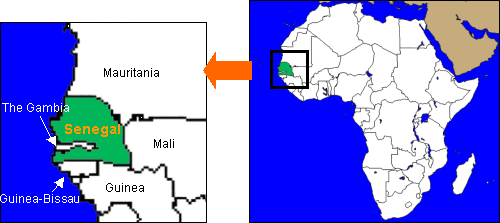 Senegal is not exceptional in being exposed to the threat of desertification. Toward the south, however, its land gradually becomes wet. Unlike the Sahara Desert, Senegal's arid area can provide a rich forest area with an environment in which the moisture required for plant growth is easily provided. If viable young trees with many roots, organs essential for moisture absorption, are planted, there is high probability that they will become established and grow. It is possible to restore rich, green vegetation to this arid area of Senegal by careful reforestation and afforestation.
Moreover, rich mangrove woods are widespread in the country's delta region. These mangroves have not been depleted by superfluous felling, therefore environmental preservation activities based on reforestation and afforestation are advanced in that area.
In Senegal Casuarina glauca and Eucalyptus are being planted in the Japanese ODA reforestation project. The former likes sand and is said to be a good species for planting in dry areas. In addition, it has high affinity with the ecosystem of this country.
Growth promotion testing (Photo 1) by spraying seedlings with an aqueous solution of TGG's novel plant activator was done in Senegal from May to November, 2003. Treated Casuarina saplings planted in plots had significantly promoted root formation and good subsequent growth as compared to untreated saplings (Photo 2). Furthermore, in the field, saplings sprayed with the plant activator solution grew much bigger than untreated ones (Photo 4). This clearly shows the advantage of using the plant activator developed by TGG.
Photo 1
Photo 2
Spraying the Plant Activator Solution on Young Casuarina Seedlings

Root Formation- and Growth-Promoting Activity of the Plant Activator
(left: Seedlings from the Plant Activator Plot; right: Control)


Photo 3
Photo 4
Planting Young Casuarina Seedlings in the Field
Growth-Promoting Activity of the Plant Activator
(left: Control Plot; right: Plant Activator Plot)
In 2004, this plant activator is being used to prepare 390,000 Casuarina seedlings because of the good results obtained in the ODA reforestation project in Senegal.